Linka has its own in-house design team, but if you are supplying your own artwork, we need you to follow a few basic rules to make sure we meet your deadlines and quality expectations.
Our design team are familiar with most desktop publishing programs, if you need help or advice on creating your artwork, please call us and we will be happy to help.
** If ordering more than one version please send a ZIP file containing all files or a multipage PDF file. You can send the artwork by WeTransfer**
Proofing
We assume that the files you send us have been proofed by you and are ready for printing.  This means you have checked the document for all spelling and grammatical errors, colour issues, layout and design BEFORE sending it to us. We are not responsible for any mistakes.
File types
File type – We require all artwork to be supplied as high-resolution PDFs (high-quality 300dpi) at the correct size of the product you are buying.
Images– all images used during artwork preparation should be 300dpi at the Finished Print Size to ensure good quality print.
Fonts– all fonts should be embedded (select embed fonts in distiller options) or converted to curves.
Colour palette – please supply as a CMYK PDF, not RGB. It is important to ensure that all images used are also converted to CMYK. Using RGB PDFs can cause incorrect colours being printed or faults with RGB images.
Bleed– PDFs need to be supplied with 3mm bleed and trim marks. With roller banners it is important to take into account the area that will stay in the stand at the bottom of the panel. This area should also be treated as bleed.
Spot colours– all spot colours need to be converted to CMYK before creating the PDF. If the PDF is set up with spot colours these will be converted before printing and may cause incorrect colour reproduction.
Roll-Up Banner:
The visible panel is 800mm width and 2,000mm high.
Artwork size should be 800 x 2,100mm high (treating the bottom 100mm as bleed)
Double sided Roll up Banner stand:
The visible panel is 800mm width and 2,000mm high. You have to supply two artworks.
Artwork size should be 800 x 2,100mm high (treating the bottom 100mm as bleed)
Feature Flag:
Please download the PDF for either 2.6- or 3.1-meter flag.
Artwork Specifications:
Pop up Walls and counter:
Graphics for a POP-UP Stand are made on a number of "Vertical Panels" that are graphically combined in a single unit.
Panel dimensions are shown below.
Example of a POP-UP Stand 3×3 – CURVED:
Width of Middle Panel – 70 cm.
Width of Side Panel   – 67 cm.
Height of All Panels   – 230 cm.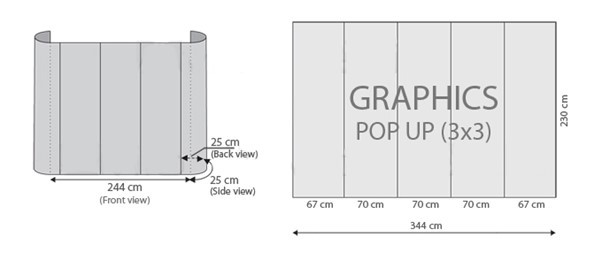 General guidance
Please double check your artwork before uploading the final PDF file. It sounds obvious, but please check that the artwork you are providing is suitable for the product you are ordering.  If it's a PVC banner, please allow for hemming and eyelets.
Do check spelling and grammar and make sure this is the final version which you are happy to have printed. Reprinting due to artwork errors is an added expense and we may have to charge.
Ensure that you have permission to use any images or logos included in your artwork. Make sure you're not breaching any copyright regulations.
We will not print any artwork which contains indecent or inappropriate images so please don't include them.